Our Origins
Our beehives rest among beautiful mountain ranges, green prairies, flower fields and pristine running rivers, away from industrial chaos.
Whilst we source our honey from Andorra, Spain, Kyrgyzstan, Ukraine and Moldova, for their privileged honey fields, we chose to process the final product in the mountain country of Andorra.
So Why Andorra?
We decided to base ourselves in this privileged place, so we could join the ranks of some of the cleanest and most environmentally friendly countries in the world.
Zero Emissions – Except for a limited number of wineries, Andorra has almost no production industry. Resulting in industrial emissions second to none. In addition to this Andorra is committed to take this further by switching 100% of their transport to electrical in the near future.
Spring Waters - located at an altitude of 1600 m above sea level, our production process uses spring water, due to the lack of running waters at this altitude. The highest quality spring water with a superior purity standard compared with premium bottled water, is used in our production and packaging process.
To
Our main aim is to fully replace sugar consumption with a healthy alternative-Honey. Besides the demonstrated harmful effect of sugar on the human body, one of the most concerning ones, growing substantially in recent years is child obesity.
We aim high, but we believe we can make our contribution!
Offer all people suffering of diabetes a healthy and accessible alternative. Since the number of people suffering diabetes is growing yearly, we believe that by introducing honey into their daily diet, we provide them with both: a safe alternative to the devastating effects of sugar, and simultaneously improve their quality of life, as our honey is known to boost energy and demonstrated healing effects.
One of our lifetime dreams is to make honey equally accessible to all countries regardless of economic barriers. As today there are many countries cannot have access to pure honey, in turn they are limited to accessing low quality, adulterated honey, honey with a high ratio of sugar syrup or other harmful substances.
By using advanced production technologies, as well as advanced logistics, we can provide this opportunity to any country and any citizen of this world, so that everyone in the world can enjoy a spoonful of pure and delicious honey every morning!
Process
Our process is key
During the production planning, we struggled to find the best solutions and equipment to make sure our product does not lose any of its quality, benefits and nutrients. It took us challenging some of the brightest minds we could access, but after many attempts: we found it!
De-crystallization, Homogenization, Deaeration, are just one the few steps during the production process.
Our top end jars are carefully washed with the highest quality spring water, before the finest honey is poured into them.
Once in their containers it´s only a matter of days for the Honey to be at your table, be it at your kitchen table or at your favorite 5 star hotel in the world.
More about process
Nr. 8 - HIGH MOUNTAIN HONEY
Nr. 9 - DARK HIGH MOUNTAIN HONEY
Le Souffle d'Adore was part of the Porsche Mobil 1 Supercup, the most trophy mono racing series in the world,
The Porsche Carrera Cup, and 24H Series...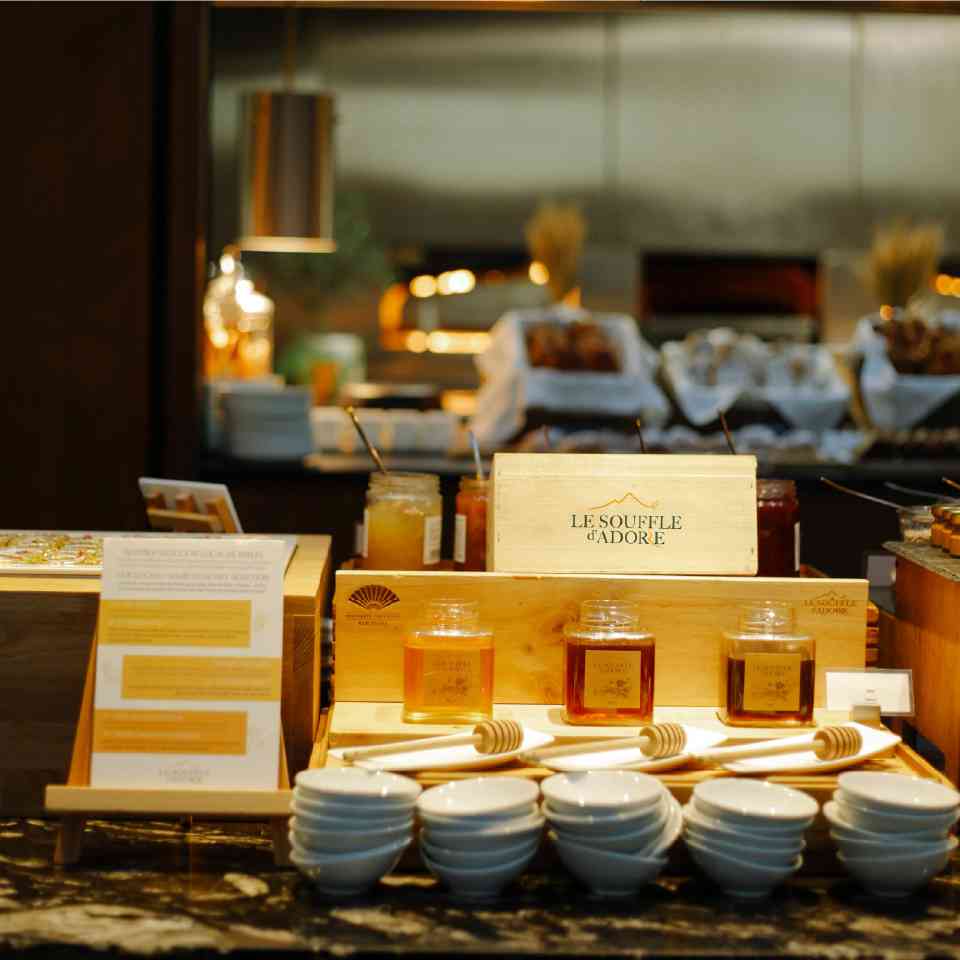 As you travel the world, and you are lucky enough to stay in one of the world's top hotels, you will find our premium honey flavours in the breakfast room.<...