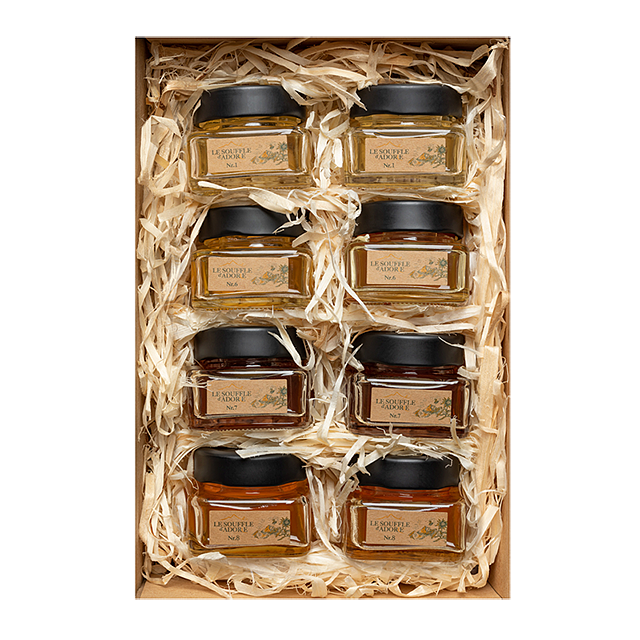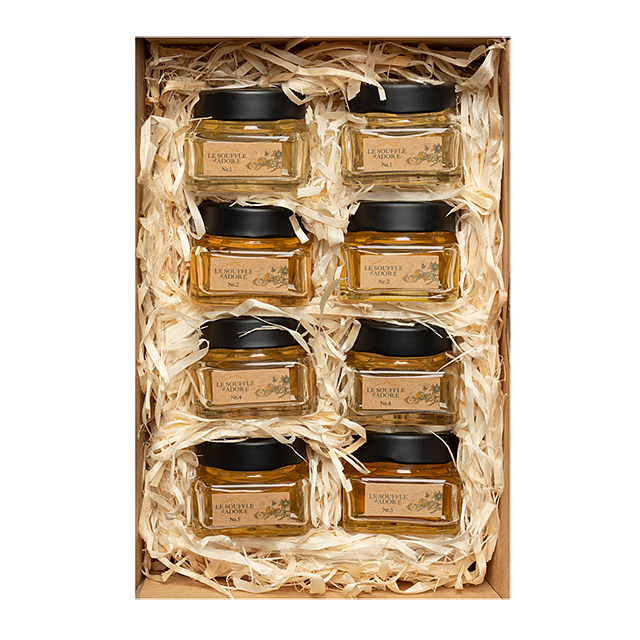 This is the perfect gift for honey lovers! We combined 8 distinct honey types in one single box, so you could enjoy a wider variety of our honey. The gift box includes 8 Le Souffle d'Adore Premium honey jars, 40 grams each.
The following sets are available:
Set 1: ACACIA, LINDEN, SAINFOIN, ROSEMARY, BLOSSOM, WILDFLOWER, MOUNTAIN, HIGH MOUNTAIN
Set 2: ACACIA, LINDEN, CREAMY, ROSEMARY, BLOSSOM, WILDFLOWER, MOUNTAIN, HIGH MOUNTAIN
Description:
Most diverse set of tastes and benefits:
Acacia Honey - the best sugar alternative, has a low glycaemic index and can be consumed even by a person with diabetes(consult your doctor in advance).
Linden Honey - excellent food for the mind. It activates the brain, helps fight against stress and strengthens the nervous system in general.
Rosemary Honey - Rosemary leaves contain about 2% essential oil, cineole, camphor, borneol and limonene, which proves blood circulation and combats bad memory and bipolar disorder. Actually, it is a good ally for the fight pinene and camphene. This honey often used as a therapy against mental illnesses.
Blossom Honey - Consuming this honey boosts your immune system. It is good for cold and flu and sore throat. It is also richer in antioxidants than other types of honey.
Wildflower Honey - is an ideal cure for treating seasonal allergies.
Mountain Honey - it has a sweet taste with bitter tart notes. Rich in vitamins, PP, C, E and B.
High Mountain Honey - great treatment for stress, disorders of the endocrine system, cardiovascular diseases, and it effectively treats diseases of the kidneys, liver and stomach.